Quality Wood, Plastic, and Metal Finishes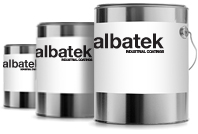 Albatek Industrial Coatings has more than 100 years experience in coating supply. We are a supplier of conventional and high solids solvent based, waterborne, and UV Cure coatings. Our team of experts provides customers with the on-site service and technical support necessary to ensure cost efficiency, waste minimization, safety, and proper use. In addition to providing stellar service, Albatek offers custom color matching and formulating for specific coating supply needs.
Albatek Industrial Coatings was operates from a 13-acre site in Eastanollee, Georgia, that is equipped with a state of the art factory and lab for developing and testing new products, customizing colors to meet exact specifications, and coating supply.
We are committed to providing quality products and service to customers while simultaneously offering employees a challenging and stable work environment. This promise is supported by our experienced management team:
Louis A. Albanese,
Owner/President (Degree in Polymer Science from the University Of Southern Mississippi)
For more information on our coating supply services, contact our office today.