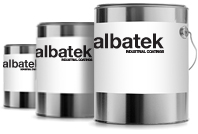 At Albatek Industrial Coatings, our coatings products are formulated with quality, performance, and ease of application in mind. Our coatings products, which are held within strict quality control measures, include:
As a leading supplier of conventional and high solids solvent based, waterborne, and UV Cure coatings, we also offer a comprehensive selection of custom services such as color matching and unique formulations for specific needs.
Regardless of your application, we have the coatings products you need for a beautiful finish. Contact us today to see how high performance coatings products from Albatek can help you.