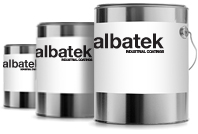 Albatek offers many types of industrial applications, some require specially formulated coatings to achieve maximum results. Select your application from the list below to see the industrial applications products that have been created to fit your needs.
Our products are formulated to work with a number of industrial applications including:
If you're unsure of what type of industrial applications coating will work best for your situation, contact a Albatek representative. We can help you find a coating that is HAPs-compliant and works with all types of automated spray equipment, which will ultimately boost your production speed and reduce finishing costs. We also offer:
For more information on industrial applications, or to talk with a Albatek representative about your coating needs, contact us today.