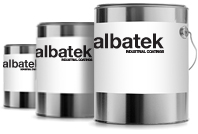 Albatek provides plastic coating solutions for any application or need. No matter the type of application, Albatek has the expertise to help.
We understand that while our diverse group of products provides beauty and protection for a variety of applicants, not every situation has a pre-designed solution. With so many types of plastics and corresponding application needs, Albatek provides plastic coating through a custom formulation basis. Each of our plastic coatings are designed to:
Meet environmental requirements
Improve production speed and reduce finishing costs
Be applied with existing equipment
To begin custom formulation for your plastic coating, contact a Albatek representative.