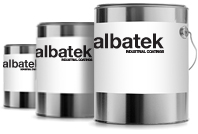 In addition to our premium wood coatings, Albatek manufactures a variety of metal coating products for use on exterior items such as farm equipment, utility trailers, boat docks, pumps, metal caskets, and more. Our metal coating applications include:
Air dry acrylic enamels
High solids low VOC enamels
General shop primers
Lift resistance phenolic primers
Albatek provides custom color matching and formulation services to ensure each metal coating product meets your exact needs and requirements, while maximizing beauty and durability.
Contact a Albatek representative for help in deciding which line of our industrial applications is best for your job.