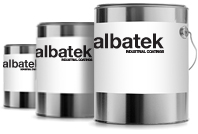 Albatek floor coating products help you deliver quality flooring that meets client's needs. With our help, you can produce flooring that is not only beautiful, but provides much needed durability. Whether wood, engineered, or laminate, Albatek floor coating products can help protect your finished product. Our coatings feature UV cure products and waterborne urethane that provide long lasting mark and scratch resistant properties. Additionally, our flooring specific coatings:
Come in a variety of colors
Boast abrasion resistance properties to optimize wear
Minimize scuffing and scratching
Can be applied simply and quickly for production line efficiency
Our floor coating, in addition to every Albatek product, is available for custom formulation and color matching services. This allows you to meet customer's exact needs while still providing beauty and durability.
Albatek's staff of trained professionals can help you pick the perfect flooring application for your needs. Contact a representative today.